About Us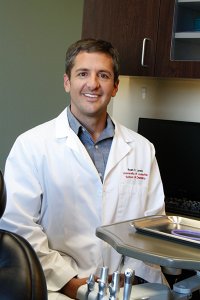 Patients should consider the specialized care of Dr. Ryan Lewis for their dental reconstructive and cosmetic dentistry needs. He is one of the leading Prosthodontists in Northern Colorado. Each patient will receive the detailed attention of Dr. Ryan Lewis offering advanced treatment options and remarkable results. You will receive a personalized treatment plan to deliver the results that meet your smile goals.
Dr. Ryan Lewis has pioneered innovation in prosthodontics. He has been recognized by his peers in the field of digital dentistry, winning the scientific writing award from the Journal of Prosthetic Dentistry in 2015. His innovation, skill and passion in the field of dentistry has set him apart and provided his patients with exceptional results.
Dr. Ryan Lewis received his Bachelor's Degree in Biology at Murray State University in 2006. He then proceeded to earn his Doctor of Medical Dentistry degree in 2011 at the University of Louisville, School of Dentistry. Dr. Lewis then completed a 3-year post graduate training program in Prosthodontics at the University of Louisville in 2015. Dr. Lewis is a Member of many prestigious dental associations such as: The American College of Prosthodontists, American Dental Association and International Team for Implantology. Dr. Lewis also specializes in complete oral rehabilitation and has volunteered his dental services in Haiti (2010) and the Philippines (2011).  Dr. Lewis enjoys spending time with his family; which includes his wife, twin girls, two dogs and a horse and is quite adept at hunting, fishing, hiking, biking and even piloting.
Dr. Lewis' Publications