Dental Implants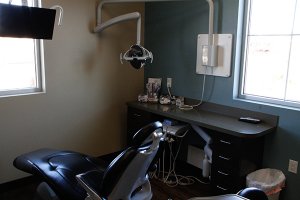 Built to last, dental implants are artificial tooth roots that provide a permanent base for fixed, replacement teeth when a lost or damaged tooth needs to be replaced. They are designed to look, feel and function just like natural teeth. When placed by an experienced prosthodontist, like Dr. Ryan Lewis, dental implants should feel natural and not interfere with eating, speaking or smiling. Because they are durable and made to last, they are a long-term, cost-effective solution to missing or damaged teeth. Unlike many other cosmetic dental options, dental implants can last a lifetime with only periodic adjustments as needed.
Dental implants not only improve the appearance of one's smile, but they are the only dental restorative procedure that preserves and stimulates the natural growth of bone and prevents bone loss that can occur when emptying spaces are left by missing teeth. When the jawbone is not being used to support a tooth, it begins to deteriorate which can then lead to other problems. By using dental implants, however, the medical-grade titanium screw that is used to secure the implant to the living bone of the jaw continuously stimulates the bone. This not only taps into the healthy blood and nerve supply from the jawbone but provides a strong and durable anchor for the new teeth. This anchoring technique also means there will be no slippage or other movement unlike dentures which frequently move around. Dentures and other non-implant options can fill gaps and help restore beauty and function but they are not as secure and cannot prevent bone loss like dental implants.
There are three aspects to the placement of dental implants. First, the actual implant is a screw, made out of medical-grade titanium, that anchors the tooth to the jawbone. It serves as "root" for the new tooth or teeth. Next, an abutment acts as a connector to support and hold a tooth or set of teeth. Dental implants are permanent but can be removed if necessary. Finally, the crown completes the process by covering the titanium post and abutment with a beautiful, natural appearing prosthetic tooth. Crowns are typically made of zirconium or porcelain for a mix of beauty and durability.
Dental implants are understandably the optimal choice for most when considering replacement of missing or damaged teeth. They help restore and retain the feel, shape and function of natural teeth while improving aesthetics of not only one's smile but entire face. They prevent bone deterioration and help maintain the proper contour of the jaw and mouth. They remain fixed in the mouth without slippage like dentures or bridges, while improving the natural aspects of eating, smiling, and speaking. Their reliability at providing beautiful, long-lasting outcomes are what make dental implants one of, if not the preferred choice of dental restoration procedures among clients and prosthodontics alike.
Single Tooth implant
Single Crown
Bridge vs Implant
All-on-4
The "All-on-4" dental implant is a revolutionary restoration procedure that uses the advances of technology to replace one full arch of teeth with only four dental implants. It is not uncommon for individuals to have several teeth missing due to age, gum disease, neglect and decay. Occasionally, the whole bottom or top row of teeth will be missing and instead of using a single implant to replace each missing tooth, the "All-on-4" implant replaces several missing teeth with only four strategically placed implants on the top and/or bottom of the mouth.
The "All-on-4" procedure requires a minor surgery under light sedation but once in position, they are permanently fixed so there is no continuous hassle or discomfort as is often the case with dentures. The implant portion of the "All-on-4" consists of a medical-grade titanium screw that is anchored inside the jawbone and acts as the "root" for the teeth. When the implants are in place, crowns are attached and serve as the visible replacement teeth, with the appearance and function of beautiful, healthy teeth.
In addition to providing a strong, long-lasting foundation for the new teeth, the titanium implant has a unique ability to fuse to living bone and function as a natural appendage. With time, the implant actually becomes part of the jawbone, solidifying the union between the two while also preventing future bone loss than can occur when teeth go missing. By stimulating the natural process of healthy bone growth, the implants also help encourage good oral health and prevent the appearance of an aging facial structure.
Ideal candidates for the "All-on-4" dental implant include those who are about to lose all of their teeth or those who are current denture wearers. The "All-on-4" is also an excellent option for those who have been told they are not candidates for traditional dental implants due to bone loss. By placing the implants at an angle into the denser part of the jaw rather than straight into the bone as is done with traditional implants, the "All-on-4" in less invasive and lasts longer.
Dr. Ryan Lewis and his team aims to always stay on the cutting edge of technology and innovation when it comes to dental implants and aesthetic dentistry. From the initial consultation to final completion, patient satisfaction and comfort is of paramount importance at our practice. By integrating the latest, most innovative of these advances into his practice, Dr. Lewis is continuously setting a new standard in patient care. Our goal is to provide the most state of the art and elegantly designed restorative and cosmetic dentistry on the front range.
Have Questions? Check out our Dental Implants Frequently Asked Questions.